Class IV Laser Light Therapy

We are so excited to be providing this drug free, regenerative technology to our clients and horses.   Laser technology and therapy has been around for about 40 years.  What is new about the Class IV therapy is the power and depth of tissue to which it can treat.  It allows us to treat large areas in  the horse is a reasonable amount of time and to reach deeper tissues compared to other animals.

The benefits of laser therapy is that it is a drug free option providing pain relief, decreasing inflammation and turning on the body's own regenerative and healing processes.  We are using this to treat tendon and ligament injuries, reduce arthritis pain. dramatically improve back pain, stimulate acupuncture points in horses that are sensitive to needles and speed up and improve wound healing. 

Clinical studies and real-world use over several decades have proven that laser therapy alleviates pain and inflammation, reduces swelling, stimulates nerve regeneration and cells involved in tissue repair. 

→  Deep, soothing laser therapy provides a drug-free option for enhanced patient care.

→  Effective relief of pain, inflammation, and swelling

→  Extremely well tolerated by pets

→  No known side effects

→  May decrease the need for surgery and medications

→  Reduces healing time

→  Requires no sedation or clipping

Call our office to  schedule a complementary consultation about how laser therapy may benefit your animal.

760-634-2144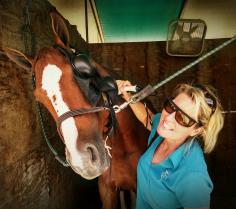 Lisa A.  Grim, DVM, Inc

858-759-5144

760-634-2144